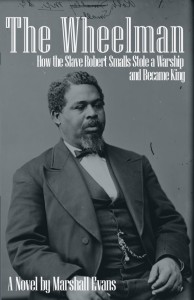 Absolutely elegant… The kind of book you add to your reread list. – Amy's Bookshelf Reviews
A masterful work… Brilliantly done. – Goodreads
A fascinating and touching read which I have recommended to others. – Amazon reviewer
Smalls' escapade reads like an adventure novel, with high stakes and a bigger-than-life protagonist. – Amazon reviewer
The Wheelman is available through your local bookstore and on Amazon.com.
More Information about Robert Smalls:
Be Free or Die is a new book I highly recommend. Cate Lineberry has done a wonderful job with the early years of Smalls' life and career- in many ways the very best part of his adventure. Her book is meticulously researched. It brings out a great deal of original, 19th century information that has not appeared in previous books about Smalls. Lineberry has worked with the assistance of Smalls' family and the leading historians in the field to produce an accessible, engaging tale you will not forget. And I hope you'll ask yourself why most of us never heard it before! 
A good biography of Robert Smalls is Yearning to Breathe Free: Robert Smalls of South Carolina and His Families by Andrew Billingsley. It appears to be for sale online, still, and your local library ought to have a copy.
The U.S. House of Representatives has recently added a web history of Smalls that is short and interesting: Click Here

And this C-Span video of a conference on Smalls moderated by his great, great grandson is still available:  Click Here

More Information on the Ghent Altarpiece
"The Most Stolen Artwork of All Time": Click Here

A video discussion of the piece: Click Here

NPR piece on "The World's Most Coveted Painting": Click Here

We Charge Genocide
Available for free on Google Books: Click Here

Click here to view a lecture I gave- How Robert Smalls Stole a Warship and Opened My Eyes.